I've been working on some other things (heh) which is why the slight delay in between releases... but I have some new for you guys!!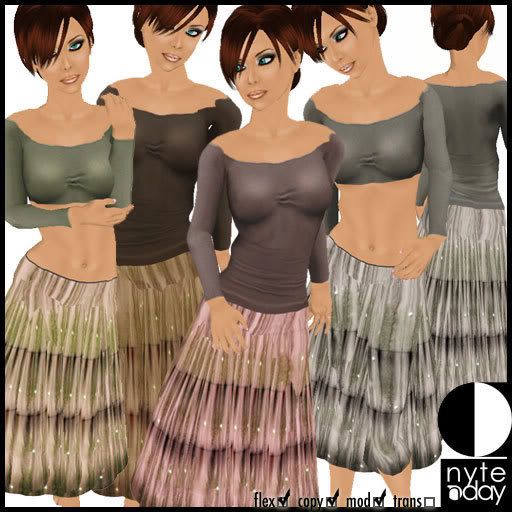 First up, a set called "Gleam". My other boho/long skirt set is really popular, so to expand on that style I did this! The set comes with: two shirts (one long, one cropped), glitch pants and flexi prim skirt. It's avaliable in four colors (blush, smoke, brown, sage) for $215L each or in a fat pack with all them for $695L.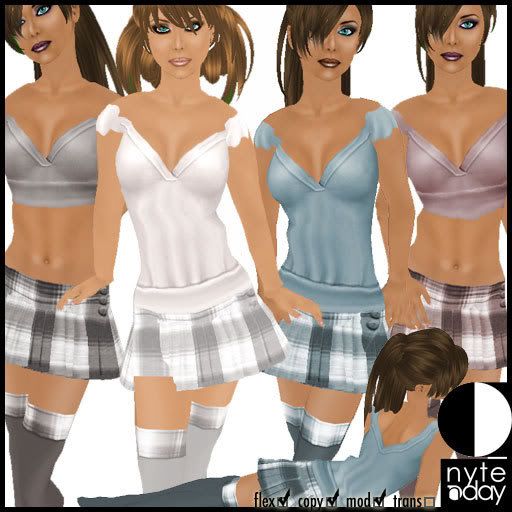 Second a sexy or cute outfit, depending on how you wear it... Rollick. This one comes with: stockings, flexi prim skirt, two shirts (long and cropped), and undershorts. It also comes in four colors (blush, blue, smoke, white) and is $215 each or $695L for the fat pack.
And last, Zipped. I really like the idea of zippers running all the way down the leg on the back of pants. Not sure why, to me it looks pretty cool! So there ya go... zippers on the back of pants! Zipped comes in three colors (red, smoke, burnt) and includes: flexi knot/tie, pants, shirt.